Equipment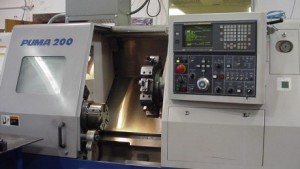 The Machine Center uses state of the art machinery and equipment to achieve the highest quality products. We specialize in CNC Mill and Lathe work and have provided products and services to a variety of industries. Our capabilities include both long and short production runs as well as tool room work. And for those projects that need special attention, our engineering department uses reverse engineering techniques to ensure precise dimensions and accurate prints. Other services that we concentrate on are milling, grinding, turning, fixture & gauge building, laser cutting, welding and fabrication.
Available Equipment
Puma 250 Lathe with Automatic Bar Feeder and Live Tooling
Puma 8S Lathe with 8″ turning cap. & 14″ shaft cap.
Puma 200 Lathe with 13″ turning cap. & 15.75″ shaft cap.
Puma Mynx Mill with 20″x40″ table.
Puma DMV production mill with pallet changer & high speed tool changer with 30 tool cap.
Haas VF1 Mill with 14″x26″ table & 4th axis rotary unit.
Clausing Engine Lathe Colchester 17 with 16″ turning cap.
Bridgeport & Acer Manual Mills with DRO.